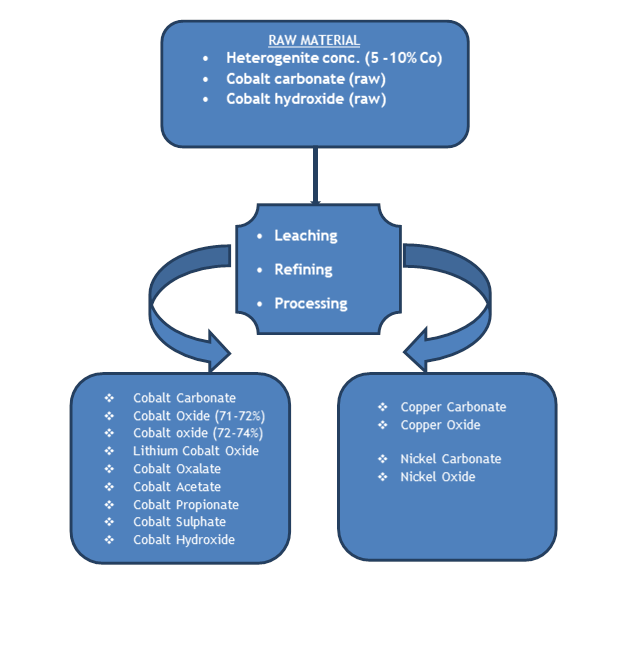 The raw material of choice is a concentrate, comprising about 5 - 8% cobalt and 5 – 10% copper based on cobalt ore (heterogenite), with origin the Democratic Republic of Congo (DRC) or the Zambian Copperbelt. A typical raw materials supply contract for heterogenite, demonstrating in detail the purchasing policies of Gilgamesh is attached Click here to download. As an alternative option raw cobalt carbonate or cobalt hydroxide can be used, although the cost thereof, (delivered in Gauteng) will be considerably higher than that of the concentrate. An alloy produced in the DRC (so-called alliage blanc) was rejected as the raw material because of the extreme leaching conditions required.
The leaching of a cobalt/copper concentrate such as the above can be achieved in a variety of leach media, namely sulphate, chloride and combinations thereof. The most optimal method, however, is a reductive leach operation with sulphuric acid and a sulphur dioxide source (for instance SO2 -gas, sodium sulphite or sodium meta bi sulphite).
Cobalt and copper are then going in solution and are purified in a series of precipitation steps followed by dual solvent extraction operations, leading to the intermediate production of cobalt (and copper) sulphate solutions of high purity (99.9%).
After this high purification stage has been reached, in a series of subsequent unit operations, the concentrated sulphate solutions of cobalt and copper may be used to produce a variety of final products. Examples of these products are cobalt sulphate crystalline, pure cobalt hydroxide, pure cobalt carbonate and cobalt oxide of various grades, cobalt salts such a nitrate, sulphate, oxalate, acetate etc. In addition, utilizing the copper solution, copper sulphate, copper oxide and carbonate as well as other high-purity copper chemicals can be obtained.